Interior Minister Adán Augusto López Hernández is shaping himself in the president's image.
They have more in common than just a last name. Interior Minister Adán Augusto López Hernández is not related to Mexico's President Andrés Manuel López Obrador, or AMLO, but both silver-haired politicians hail from the state of Tabasco in Mexico's southeastern tropical lowlands. Like the president, López Hernández got his start in the PRI before eventually making his way to the party AMLO founded, Morena, in 2015. And just as AMLO rode an electoral tsunami to victory in the 2018 elections, López Hernández beat his closest rival by more than 40 points to become Morena's first governor of Tabasco—a role he gave up to join the Cabinet.
Now a pre-candidate in the 2024 presidential race, López Hernández's main strategy is to emphasize his similarities to the president—but will it be enough to convince AMLO's most loyal supporters? A March 6 El Financiero poll places López Hernández third among the ruling party's presidential hopefuls with 15% support compared with 28% for Mexico City Mayor Claudia Sheinbaum and 22% for Foreign Minister Marcelo Ebrard. Alejandro Moreno, head of El Financiero's public opinion polling, told me that López Hernández attracts a more ideologically moderate voter while Sheinbaum or Ebrard appeal more to the party's leftist base. That might help explain why López Hernández has been adopting the same language used by the president, said Moreno. "He has probably come to understand that he has to seek out the diehard, radical, AMLO voter that favors the other two [pre-candidates]."
AMLO has shared his stage with all three, giving each the spotlight in a test of who could win Morena's internal poll for the party nomination and the June 2024 election after that. Sheinbaum is viewed as the top choice, while López Hernández stands as the president's insurance policy should she stumble.
At a December event where the president praised the three potential successors, he called his interior minister "very competent, he's experienced," saying: "Adán is my brother, my friend, and also my countryman, and with the work he does he shows me his support."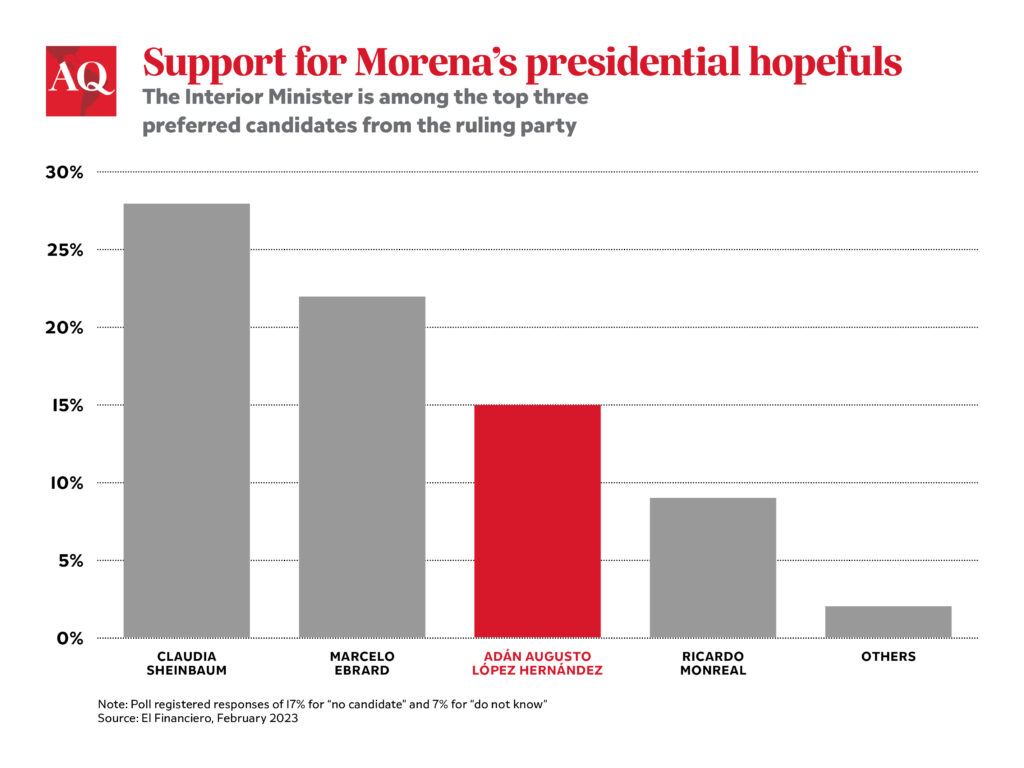 It's all about the timing

López Hernández entered the Cabinet at a key point in the AMLO presidency. The June 2021 midterms saw Morena's coalition lose its two-thirds majority in the lower house and, with that, a door closed to passing constitutional reforms the president viewed as central to his transformation of Mexico's economy and political landscape. "[AMLO's] government needed someone who could lobby, someone cunning," says Juan Pablo Sibilla Téllez, a head anchor at Tabasco-based media outlet XeVT. "That was one of the attributes that López Obrador saw in Adán Augusto." López Hernández, who was also a senator and federal deputy, ascended to the Interior Ministry role in August 2021. In the fall of 2022, he got enough opposition party members to back an amendment that extended the use of the armed forces in public security measures until 2028.
He also helped usher through a recently approved reform to Mexico's electoral agency, known by its acronym as the INE. AMLO, who has long blamed the INE for his narrow loss in the 2006 election, says the changes will save millions of dollars by slashing the agency's budget and staff. But the reform's critics warn it delivers a defining blow to Mexico's democracy, as it debilitates the INE's autonomy and its ability to manage elections—right as the country prepares for its massive 2024 vote. As a minister, López Hernandez served as not just a shepherd for the electoral reform, but also a spokesperson, describing it as the "end of the INE's golden bureaucracy."
An enforcer in the Cabinet
As AMLO's righthand man, the interior minister is a heartbeat away from the presidency: As the one who temporarily steps in if the president can't fulfill his duties, this cabinet post has long been a launching pad to the top post. During the seven decades when the Institutional Revolutionary Party (PRI) held an autocratic grip on power, "those who led the Interior Ministry were mano dura men—or hawks," says Blanca Heredia, a political scientist and professor at Mexico's Center for Economic Research and Teaching. Gustavo Díaz Ordaz (1964–70) and Luis Echeverría (1970–76) serve as examples of ministers who made the leap from one role to the other.
But beginning in the 1980s and as the country transitioned to democracy, Mexico's finance ministers began to eclipse the post. In turn, interior ministers shifted from serving as enforcers to mediators charged with finding a balance between political forces. Now the pendulum appears to be swinging back. "We've seen a desire to rebuild the past with this administration," says Edna Jaime, founder and director of the think tank México Evalúa. "The current interior secretary has some of the traits of the secretaries of the past PRI regimes," she says, adding that, "Adán Augusto delivers the president's message to legislators, he delivers the message to other agencies, he manages the relationship with some actors, but more with a logic of imposition than of negotiation."
With that has come what many say is a shift toward a more combative tone. López Hernández has drawn headlines in recent months for claiming people from his home state are more intelligent than Mexico's northerners, suggesting a member of the military could be president, and calling opposition governors "hypocrites."
While the president came from relatively humble origins, López Hernández's father, an early political supporter and friend of AMLO, was a prominent notary in Tabasco. And though AMLO famously eschews international travel, López Hernández earned a master's in Paris.
Still, the tabasqueños' trajectories have been so closely aligned that in October 2022, when López Hernández announced he would compete to be Morena's candidate, his backers showed their support with the catchphrase: "Que siga López, estamos Agusto." A play on words using both the president's and the pre-candidate's names, the slogan suggests that Mexicans, 63% of whom approve of AMLO, should support another López if they want to keep the country on the same path.
Source: AQ.org