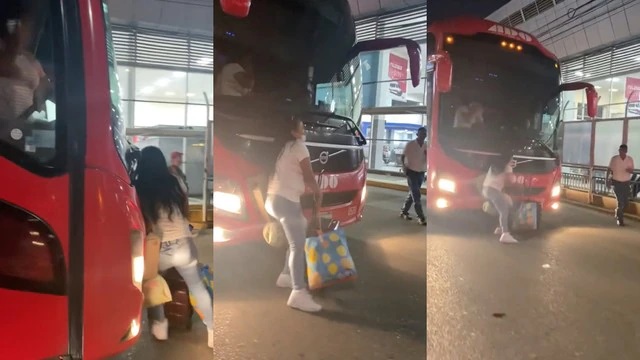 A video circulating on social networks shows the moments in which an ADO driver pushed a woman who had arrived late to board the bus.
According to what was indicated in local media reports, the events captured on video were recorded in the vicinity of the terminal in the city of Villahermosa, Tabasco.
The recording shows that the woman who arrived late had her luggage with her and tried to stop the bus so that the driver of the unit would allow her to get on.
However, the ADO driver ignored the desperate passenger's requests, since he did not stop and even pushed the woman and continued advancing pushing her.
In the video it is possible to hear that the woman asked for help so that she could get into the unit, and she questioned the reasons why she was not allowed to board.
Woman did manage to get on the bus; the ADO driver was fired.
Even though the outcome is not observed in the video that has gone viral on networks, a second recording does show what happened at the end of the events.
In that video, it can be seen that due to the woman's desperation, other people intervened and managed to make the ADO driver stop, so that in the end the woman was able to get on.
Meanwhile, on February 15, a statement from the Mobility ADO corporate was released, in which it is reported that due to the incident in Villahermosa, Tabasco, actions have already been taken.
In this regard, the statement notes that due to his actions, the ADO driver who pushed the woman was fired from his position.
Regarding the facts, Mobility ADO reported in its display that it was possible to identify that the ADO driver left the terminal in Villahermosa, Tabasco minutes before the stipulated time.
It was for the above that the determination was made to terminate the driver of the unit that appears in the video.
Source: SDP Noticias