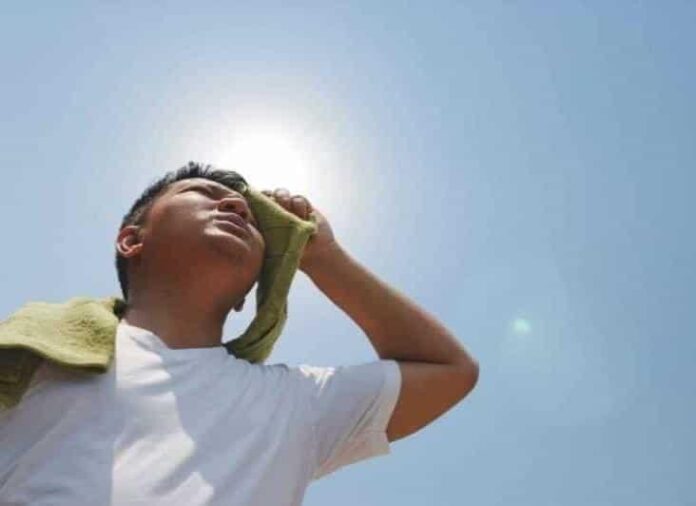 A member of the Civil Protection Department holds a climate meter which marks 43.4 degrees Celsius as temperatures rise during an unusual heat wave, in Monterrey, Mexico June 14, 2023. REUTERS/Daniel Becerril
MEXICO CITY, June 15 (Reuters) – Athletes at Mexico's National Games have struggled to cope with a heat wave sweeping the country this week, with matches suspended and athletes hospitalised due to scorching temperatures in the state of Tabasco.
Held in a place that shares its name with a famous spicy sauce, the National Commission for Culture, Physical Fitness and Sport (CONADE) Games are taking place in sweltering conditions that have caused several athletes to collapse from exhaustion.
Four players in Chihuahua's youth baseball team succumbed to heat fatigue and two received hospital treatment for severe heat stroke, the Chihuahua Institute of Sport and Physical Culture (ICHD) said, adding there had been a lack of support for the athletes from CONADE.
Reuters has emailed CONADE for comment.
The team also reported failures in accommodation and transport. In a video that went viral on social media, they are seen raising money to buy their own fans after finding a hotel that had no air conditioning, adding to the criticism of the body led by Ana Guevara, who is in the spotlight after an incident with the artistic swimming team.
In another heat-related incident, the women's softball final between Mexico City and Sonora was called off on Sunday after at least six players were reportedly hit by heat stroke or suffered dehydration.
The title was won by the Mexico City side after the match was rescheduled to a later time.
Baja California and Tamaulipas were playing for the bronze medal in softball when the weather took its toll on the Tamaulipas squad that opted to walk off the field, according to local media.
The Meteorological Service of Mexico issued a warning about the third heat wave, forecasting high temperatures up to 40 degrees Celsius (104°F) in 30 states in the country and recommending people should avoid outdoor activities.
The national games of CONADE in Tabasco will be held until July 25.
Source: Reuters