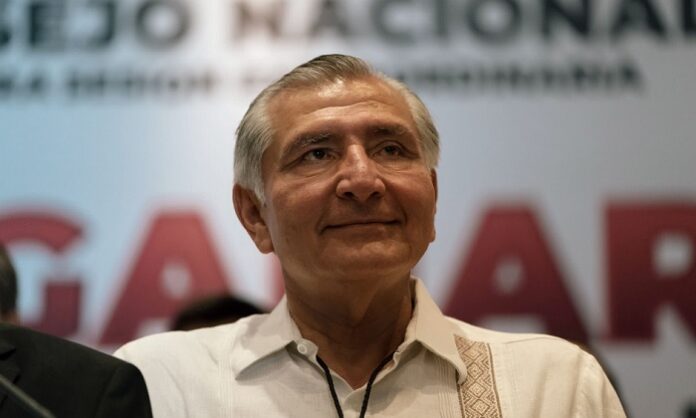 Adán Augusto López Hernández is a Mexican politician affiliated with Morena. López Hernández served as the governor of Tabasco from 1 January 2019 to 26 August 2021, when he replaced Olga Sánchez Cordero as Secretary of the Interior.
On June 13th, Lopez announced on social media he would leave his post on Friday, June 16th, in what's seen as a long-shot bid to become the nominee for ruling party Morena ahead of presidential elections in 2024.
---
"I will leave the post that I took out of loyalty to attend to the task of continuing the Fourth Transformation," he said in a Twitter post, making reference to President Andres Manuel Lopez Obrador's name for his political movement.
The Morena party said it would announce its official candidate on Sept. 6 after polling potential voters. Foreign Affairs Minister Marcelo Ebrard stepped down from his post first, and other hopefuls including Mexico City Mayor Claudia Sheinbaum and Senator Ricardo Monreal have followed suit. AMLO, as the current president is known, cannot run again after finishing his six-year term in 2024.
Lopez is polling in third according to the daily El Financiero, behind Sheinbaum and Ebrard, leading to questions about whether he could make up the difference in just a few months. AMLO has vowed at press conferences not to secretly hand-pick his successor, a step that he has said favors a democratic process.
AMLO's widespread popularity is expected to anchor the party's voters and carry over to Morena's eventual presidential nominee. The interior minister, who has largely stayed out of the public eye since his appointment in 2021, has recently begun to raise his profile by becoming involved in issues ranging from Mexico's transparency commission to a proposed airline reform. He also served as a spokesperson at morning press conferences when Lopez Obrador was out sick with Covid-19 in April.
Still, the former Tabasco governor only has 10 percent of voter preferences among possible Morena candidates. Regardless of who ends up being on the ballot, the party has 41% of voter preferences, while the opposition parties known as the PAN and the PRI are a distant second and third, with 14% and 12% respectively, according to El Universal.
The president is also originally from Tabasco, a reason why some analysts say he may have an affinity with the minister, and has focused some of his major infrastructure projects on building up industry and tourism in the country's southern states.
Source: El Financiero
---