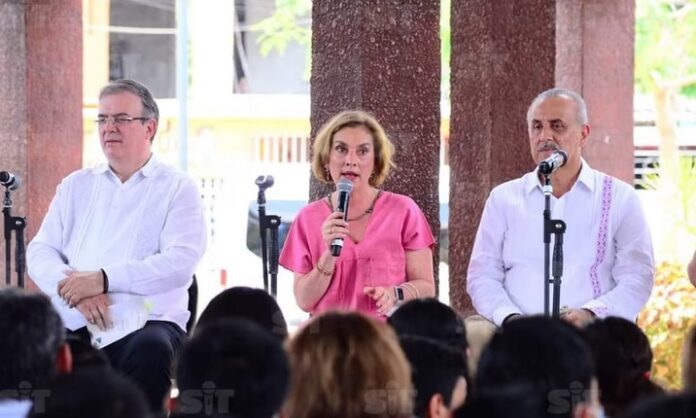 VILLAHERMOSA, TABASCO – "I want to tell you all that the only and authentic truth is that our president is very well, that is the first and most important thing," said Beatriz Gutiérrez Müller during an event in Tabasco, rejecting the versions that suggest that her husband fell ill with something other than COVID-19.
In her participation in Los Fandangos por la Lectura (The Fandangos for Reading), in the indigenous area of Villa Tamulté de las Sabanas, Beatriz Gutierrez said that President Andrés Manuel López Obrador, who was infected with Covid for the third time, will be discharged in two or three days, as reported by the Secretary of Health, Jorge Alcocer.
When addressing a few words to the high school students who attended this cultural activity, she lamented that there are those who invent gossip to "alter reality" or perhaps "because they don't have anything better to do", so she recommended that these people dedicate themselves to reading to entertain themselves, instead of making up things.
She indicated that she was not infected, but left her husband "hidden and resting" in isolation, as established by the health protocols for COVID-19. "We are gathered here today where the central theme is the book, but we can use this situation. They wondered if the wife of the president who is sick was going to come, well yes, I am here because I am not infected, "she clarified.
She insisted that she decided to use the microphones to prevent the further spread of false news. "I couldn't bring this up in the face of the number of darts they've thrown," she added.
It will be then when López Obrador resumes his public life that he will be able to explain how he was infected in more detail, although that will surely be difficult to determine since it is common to see him in crowds, she added.
---
Source: El Financiero
---