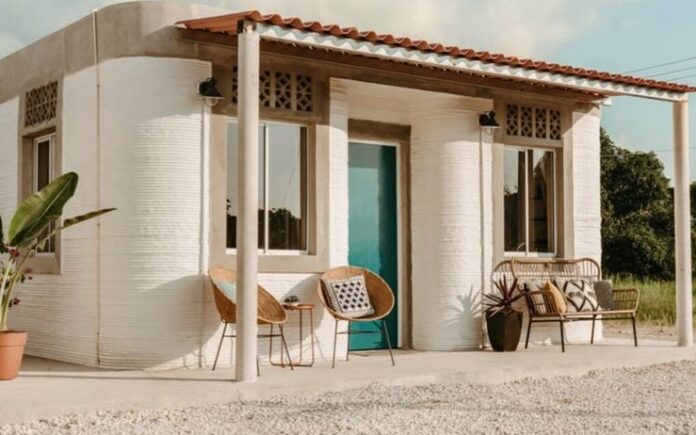 On the outskirts of the town of Nacajuca, Tabasco, a group of organizations and construction companies create with large 3-D printers around 500 new houses for the population living in extreme poverty, which can withstand an earthquake of magnitude 7.4 degrees. and tolerate extreme weather conditions.
According to the newspaper The New York Times, a printer called Vulcan II is used to make these houses, which are more than three meters high, which can create almost any object, layer by layer, from a digital file. In the case of construction, it uses lavacrete, a concrete mixture patented by the Icon company that uses concrete, foam, and polymers to produce large-scale buildings in less than 24 hours.
The project is led by New Story, a non-profit organization based in San Francisco, California, United States, which is focused on providing housing solutions to extremely poor communities. Échale, a producer of social housing in Mexico that has been in the market for 24 years, and Icon, a construction technology company in Austin, Texas, also participate.
"The organization began in 2015, shortly after Brett Hagler (executive director of New Story) took a trip to Haiti and saw families still living in tents years after the 2010 earthquake," the organization told the US newspaper.
In the case of Mexico, to complete the "village" in record time, the organization partnered with local Tabasco officials to bring drainage, electricity, and water services to the community. While the initiative known as "Échale" selected the profiles of the residents for the new houses according to the needs and decided to sign the titles of each house not to a whole family but to the woman of the house, indicates the American newspaper.
So far, Icon has delivered more than two dozen 3D-printed homes in the United States and Mexico. However, his upcoming projects range from social housing to disaster relief housing and market-rate real estate in various countries around the world.
Additionally, he is working on a project with NASA to develop space-based building systems that he hopes will eventually serve as habitats on both the Moon and Mars.
Source: OEM