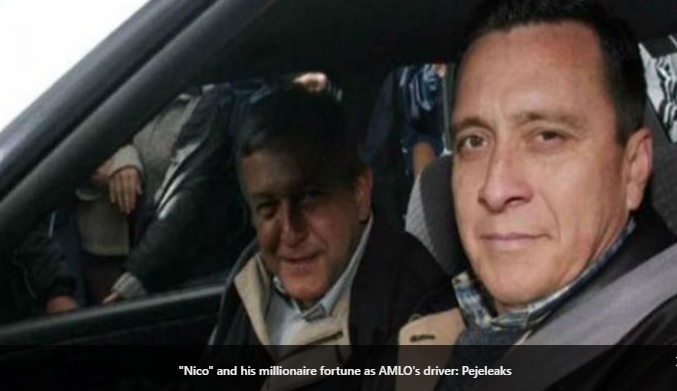 One of the most representative figures that have accompanied Andrés Manuel López Obrador during his political career is Nicolás Mollinedo Bastar, better known as "Nico", who managed to amass a great fortune overnight.
Today the former AMLO driver lives a life full of luxuries, with the acquisition of different properties and the education of his children who attend exclusive schools in the United States, and of course, he financed vacations that lasted for months abroad.
"Nico" went from being in charge of taking AMLO from one place to another, to being appointed director of Organization and Services and coordinator of the Logistics Support Unit of the Headquarters of Government, which helped him become the owner of houses in the City and in the State of Mexico. He bought a luxurious Mercedes Benz and a farm in Tabasco, all this with the same salary as an undersecretary, $62,997 pesos per month.
And not only that, during his more than 10 years at the service of López Obrador, Nicolás Mollinedo has managed to give his children a life of exorbitant luxuries. For example, Nicolás Mollinedo Portilla, his eldest son, attended Culver in 2006, the luxurious private school in Indiana, whose tuition was around $30,000 USD per year, plus $1,500 USD for uniforms, $750 USD for the mandatory English course for foreign students, and $1,200 USD for health insurance and living expenses. In total, $33,450 US dollars per year, which is equivalent to 669,000 pesos at the current exchange rate.
Another similar case occurred in 2017 when another of his children, Samuel Mollinedo Portilla, invited his friends to Super Bowl 51, where the cost of the cheapest ticket exceeded $3,600 USD. Samuel has been traveling on private yachts with his friends for more than a decade, staying at resorts on the Mediterranean coast, where prices range from 330 to 440 euros per night per person.
Stories of privileged AMLO's collaborators such as "Nico" go on and on in a long list, and although he is now retired, they assure that his average expenses are around $1,000,000 pesos per year, but his relatives currently continue to take advantage of the situation.
And now, Rafael Marín Mollinedo, Nicolás's cousin, who was Morena's electoral coordinator in Quintana Roo, has been appointed the new head of Customs at the national level. corruption, his relatives continue to take advantage of the situation and the protection of López Obrador.
Lopez Obrador claims that he is not like his predecessors and that he and his collaborators are honest, but cases of corruption involving his relatives and close collaborators (such as "Nico"), don't stop popping up everywhere.
Source: laotraopinion.com.mx
---