The entry into operation of new renewable plants has been stopped by the current administration on the grounds that it is necessary to guarantee the reliability of the national electricity system (SEN) in times of coronavirus.
Through the Agreement to Guarantee the Efficiency, Quality, Reliability, Continuity, and Security of the National Electric System due to the epidemic of disease caused by the SARS-CoV2 virus, epidemic of disease caused by the SARS-CoV2 virus, published by the National Center for Energy Control (Cenace) on April 29, it is established that the actions for the integrity and operation of the system will be carried out starting today.
Among the measures that will be adopted to give reliability to the system, as of May 3, the new plants, whether solar or wind, will not be able to carry out their load tests on the electrical networks, which means that they will not be able to start operating, although are ready to do it.
However, it does not establish a term of duration of the measure, so the operation of the parks will be stopped for an indefinite time.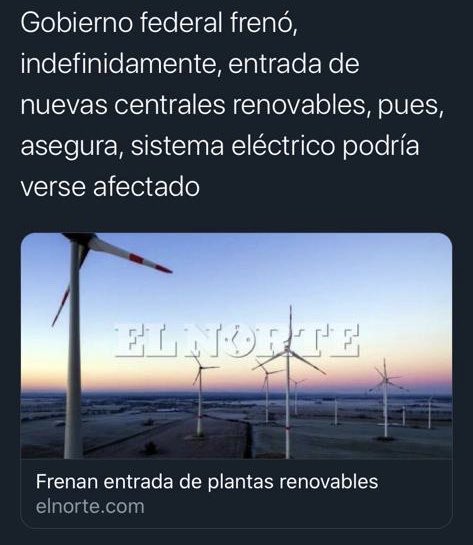 The document justifies the measure because the electrical system could be affected by the reduction in the consumption of electrical energy by end-users, and there have even been some failures due to the use of renewables and their intermittency since last year.
As an example, he mentions three failures in the transmission line between the electrical substations of Escárcega-Ticul, in the Yucatan Peninsula, which according to information from the Federal Electricity Commission (CFE) were caused by burning grasslands and not by the renewable entry.
In addition, it indicates as background information two disconnections in the substation in Ixtepec Power-Julie in January and May 2019 due to a wind power plant and two failures due to the trial entry of two solar power plants in the northwest on April 15.
"That the intermittent generation of wind and photovoltaic Power Plants affects the reliability of the SEN insufficiency, quality and continuity in the electricity supply (…) they do not contribute to the primary regulation of frequency quality control", refers the agreement.
In this regard, Elie Villeda, a specialist in the electricity sector, commented that the measure taken to curb the entry of new renewable parks and take advantage of the issue of the pandemic to privilege the dispatch of polluting energy is worrying.
"No country has preferred the dispatch of dirty plants over renewable ones when the dirty generation may be the largest impacted by fuel imports.
"It's not mentioned until when the measure adopted would be suspended," Villeda explained.
Source: reforma.com, elnorte.com
The Mazatlan Post